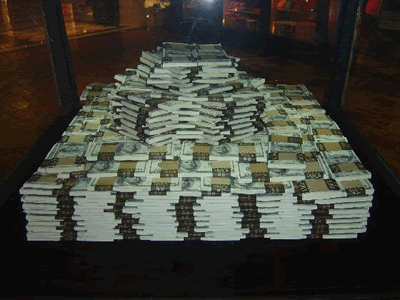 Seems Jamie needs more allowance and is asking close to a
million
a month. That picture is $1,000,000.00 cash. Inside each one of those packs of wrapped $100 bills is $5000.00
"In addition, according to the filing, Frank McCourt currently resides in a "luxury hotel in Beverly Hills," has spent $52,000 on clothes since November and keeps two of his sons on the Dodgers' payroll -- at a combined annual salary of $600,000 -- "despite the fact that one is a graduate student at Stanford and the other works full-time for Goldman Sachs."
Leona Helmsley once said. "We don't pay taxes, only the little people do"
I guess Frank and Jamie are not little people like us.
Also, as a result of carefully structured business entities,
the McCourts have "paid no federal or California state income taxes since at least 2004,"
according to the filing.